3.00 p.m. - 5.30 p.m.
Room "Giorgio Mazzini" (Aula Magna)
Building B - Floor 3
---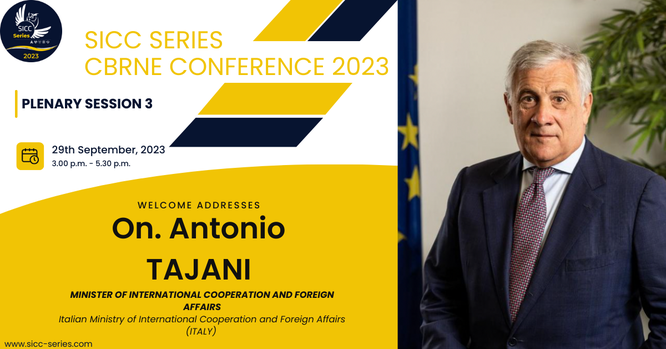 On. Antonio TAJANI
MINISTER OF INTERNATIONAL COOPERATION AND FOREIGN AFFAIRS
Italian Ministry of International Cooperation and Foreign Affairs
(ITALY)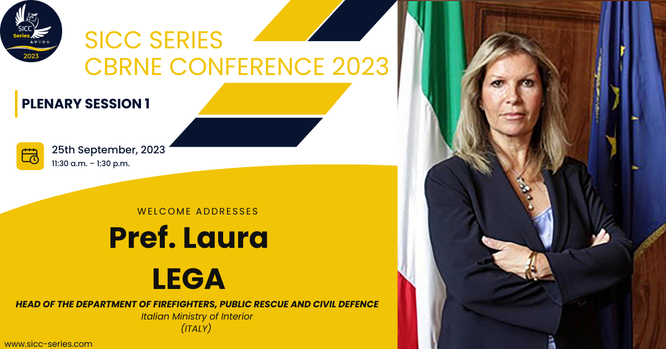 Pref. Laura LEGA
HEAD OF THE DEPARTMENT OF FIREFIGHTERS, PUBLIC RESCUE AND CIVIL DEFENCE
Italian Ministry of Interior
(ITALY)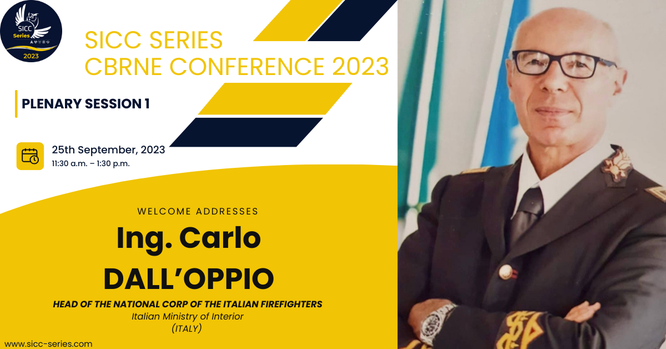 Ing. Carlo DALL'OPPIO
HEAD OF THE NATIONAL CORP OF THE ITALIAN FIREFIGHTERS
Italian Ministry of Interior
(ITALY) 
Prof. Nathan LEVIALDI GHIRON
RECTOR
University of Rome Tor Vergata
(ITALY) 
---
Chairperson PLENARY SESSION 3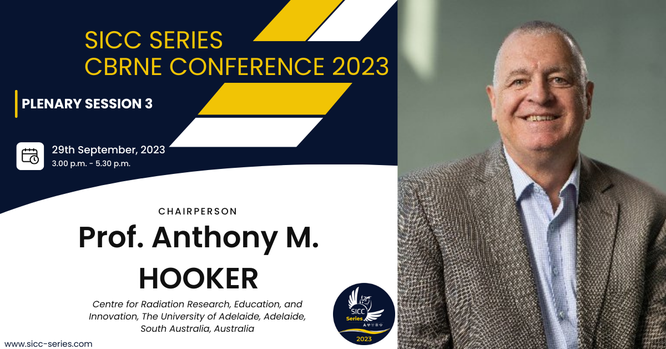 Prof. Anthony M. HOOKER
Centre for Radiation Research, Education, and Innovation,
The University of Adelaide, Adelaide, South Australia
(AUSTRALIA)
---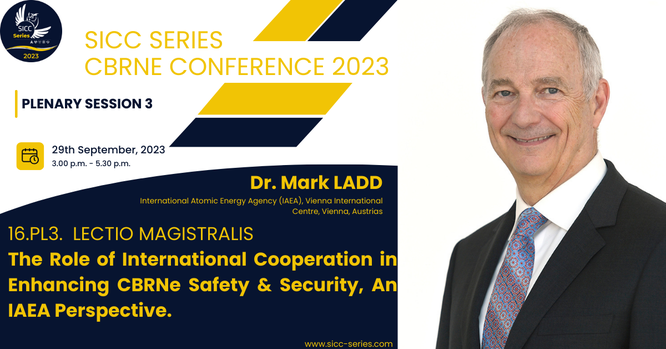 16.PL3. LECTIO MAGISTRALIS
The Role of International Cooperation in Enhancing CBRNe Safety & Security, An IAEA Perspective.
Dr. Mark LADD
International Atomic Energy Agency (IAEA), Vienna International Centre, Vienna, Austria
The International Atomic Energy Agency (IAEA) is the world's center for cooperation in the peaceful use of nuclear science and technology. In the current IAEA Nuclear Security Plan 2022-2025, our Member States underlined the importance of keeping pace with evolving challenges and threats to nuclear security using scientific and technological innovations and have affirmed the important role of science, technology, and engineering in understanding and addressing such challenges and threats.
While addressing the RN component of the CBRNe threat spectra is clearly within IAEA's nuclear security and safety wheelhouse, the application of nuclear science and technology to deal with the other aspects of WMD is less well known. In the presentation, IAEA efforts applicable to addressing the complete CBRNe threat spectrum will be discussed.  An integrated and coordinated approach using application of basic security principles combined with innovative use of science and technology is needed to effectively deter, detect, and mitigate current and evolving CBRNe threats. While science and technology play an important role in addressing CBRNe threats, successful research, development, and deployment efforts require international cooperation. Opportunities for cooperative work with the IAEA will be discussed to further enhance global efforts to minimize the CBRNe threat.
---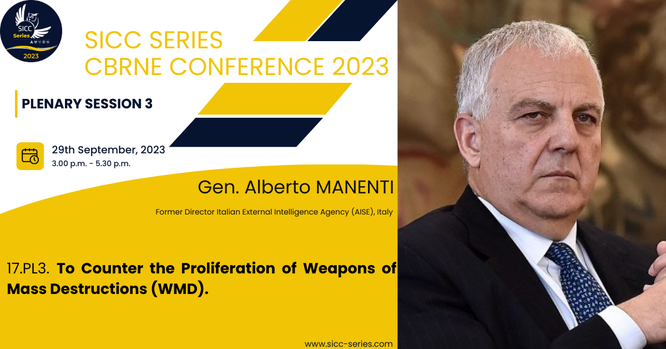 17.PL3. To Counter the Proliferation of Weapons of Mass Destructions (WMD).
Gen. Alberto MANENTI
Former Director Italian External Intelligence Agency (AISE), Italy
Besides international treaties and conventions that ban weapons of mass destruction, countries rely on multilateral informal agreements to prevent the development and production of WMD: 1) Voluntary basis; 2) Specific rules and actions to control the transfer of technologies/materials/equipment; 3) Technical help for third countries wishing to establish effective export control and cooperation. In this talk I will explain the lessons learned during my work experience.
---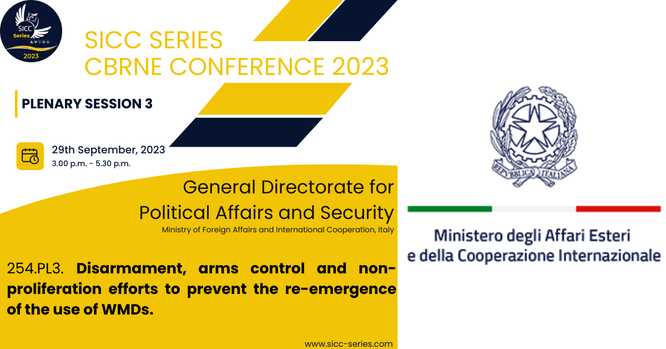 254.PL3. Disarmament, arms control and non-proliferation efforts to prevent the re-emergence of the use of WMDs.
General Directorate for Political Affairs and Security
Ministry of Foreign Affairs and International Cooperation, Italy
At a time when the entire disarmament and non-proliferation architecture proves to be strained by manifold and crosscutting challenges, the global effort aimed at combating the re-emergence of the use of WMDs echoes as a universal reminder of our common investment in global security. Since the use of CBRNe agents is a high-consequence transnational threat, monitoring and limiting illegal activities to develop such weapons is critical. The spread of innovative technology, expertise, and increased know-how represents another major challenge for our countries. WMDs pose a serious threat and we deem it paramount to invest in prevention mechanisms and enhance our collective security. Italy is actively involved in several CBRNe initiatives, fully shares the goal of a world free of WMDs and is firmly committed to disarmament, arms control and non-proliferation as essential components of its foreign policy.
---
15.PL3. Efforts to eliminate chemical weapons must continue
Ms. Beatrix LAHOUPE
Organization for the Prohibition  of Chemical Weapons (OPCW), The Hague, The Netherlands
As the implementing body for the Chemical Weapons Convention (CWC), the Organisation for the Prohibition of Chemical Weapons (OPCW) with its 193 Member States oversees the global endeavour to eliminate permanently the chemical weapons worldwide. Since the Convention's entry into force in 1997, it is the most successful disarmament treaty eliminating an entire class of WMDs. For its extensive efforts in eliminating the chemical weapons, the OPCW received the 2013 Nobel Peace Prize. 
OPCW recently confirmed that the last chemical weapon from the stockpiles declared by all States Parties was verified as destroyed. The end of the destruction of all the declared chemical weapons is an important milestone for the Organisation. 
Recent uses and threats of the use of toxic chemicals as weapons illustrate that preventing re-emergence will remain a longer-term priority. Through its International Cooperation and Assistance Programme, OPCW support's States Parties national efforts in this context.
---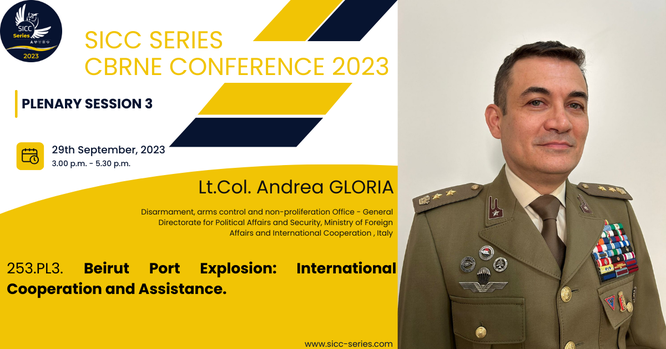 253.PL3. The aftermath of the Beirut Port Explosion: International Cooperation and Assistance.
Lt.Col. Andrea GLORIA
General Directorate for Political Affairs and Security
Ministry of Foreign Affairs and International Cooperation, Italy
On 4 August 2020, an explosion occurred in the city of Beirut, reportedly caused by 2.750 tonnes of ammonium nitrate stored in a warehouse in the port of the city. According to the Lebanese Ministry of Public Health and the United Nations, the blast resulted in more than 220 casualties and 6.500 injured people. Buildings and infrastructures were significantly damaged, particularly in the areas surrounding the port as well as further afield. About 300.000 people lost their houses, with an estimated cost of more than three billion dollars. The blast put the entire Lebanese Health System in crisis, as hospitals across the country were overwhelmed and three main hospitals in Beirut were severely damaged. Following the immediate humanitarian support provided by the European Union through the EU Civil Protection Mechanism, United Nations, foreign countries, National Agencies and several NGOs, the response efforts shifted towards reconstruction and recovery synergies. This lecture addresses the aftermath of the Beirut Port explosion underlining global efforts and international initiatives to prevent such kind of events.
---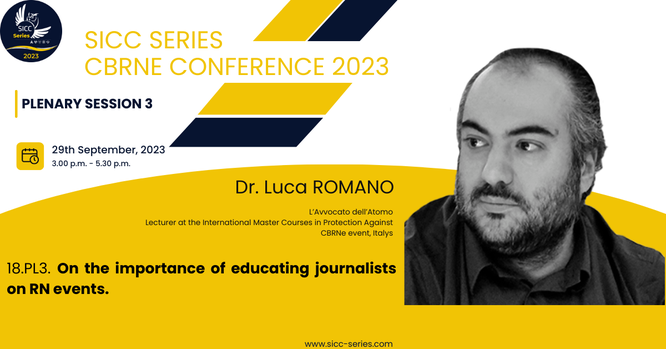 18.PL3. On the importance of educating journalists on RN events.
Dr. Luca ROMANO
L'Avvocato dell'Atomo
Lecturer at the International Master Courses in Protection Against CBRNe event, Italy
We have known for a long while that one of the key issues during radiological and nuclear events is psychology. Gathered evidence amongst survivors of the atomic bombings in '45, people affected by the Chernobyl disaster and Japanese evacuees from the Fukushima nuclear meltdown shows that the psychological effects of radiological events are deep and widespread and may sometimes even have consequences on public health that trump the ones directly attributable to radiation. In order to fight the stigma associated with radiation exposure as well as implementing better emergency procedures without disruptions caused by mass panic, it is pivotal to educate the press about the fundamentals of radiation protection and nuclear safety. This presentation will present some lessons learned from the recent crisis at the Zaporizhzhia Nuclear Power Station, stemmed by the war in Ukraine.
---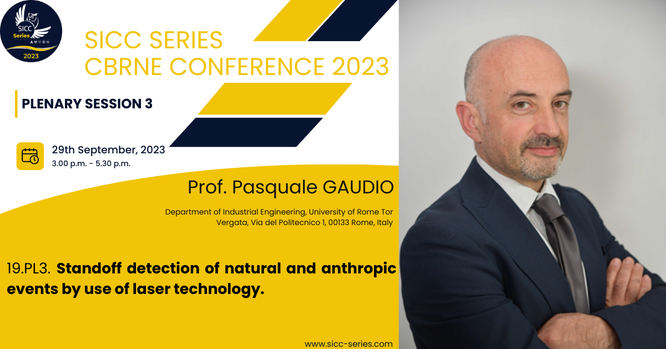 19.PL3. Standoff detection of natural and anthropic events by use of laser technology.
Prof. Pasquale GAUDIO
Department of Industrial Engineering, University of Rome Tor Vergata, Rome, Italy
Laser absorption spectroscopy and scattering techniques have been of great interest in several applications like sample analysis, environmental protection, agriculture monitoring, and safety and security applications. These techniques are characterised by real-time detection capable of giving immediate alarms by measuring changes in a signal measured that indicates a change in one of the characteristics of the sample under investigation. The lidar technique is the dominant laser technique in remote atmospheric detection, which shows high sensitivity but low specificity to variations in the characteristics of the sample under investigation. The latter technique, in fact, is very sensitive to variations in the density of the medium through which the laser beam passes but has low specificity as it fails to identify its nature. The lidar technique has been used in various applications for both civil and industrial use, demonstrating the high speed of response and the ability to detect a possible alarm in real-time, then transferring the position and evolution of the latter to more sophisticated analysis systems for substance identification. Undoubtedly, the ability of lidar systems to identify possible causes of alarm is very rapid, and continuous technological evolution allows the design of increasingly compact and manageable systems with lower costs also. The open problem remains the identification of the threat. In the case of chemicals, there are two possible ways to proceed. The first is that which uses dial systems, which are more complex of previous one, where research is spent in determining the fingerprints of the different substances to be identified in addition to improving sensitivity in measuring the concentration profile. The second is using low-cost, low weight, and low-power consumption systems, which can be realised with sensor arrays capable of performing chemical classification measurements using specific algorithms. Such systems can be suitable for use on autonomous vehicles (UAVs/drones) so that they can be sent to the point where the release/alarm was measured. Some examples of applications to natural events, such as fire detection and smoke/leak detection of lidar systems, will be shown as well as their evolution over time. Threat identification systems that can be combined with lidar to make a complete system for remote detection and identification of chemicals substances will also be shown.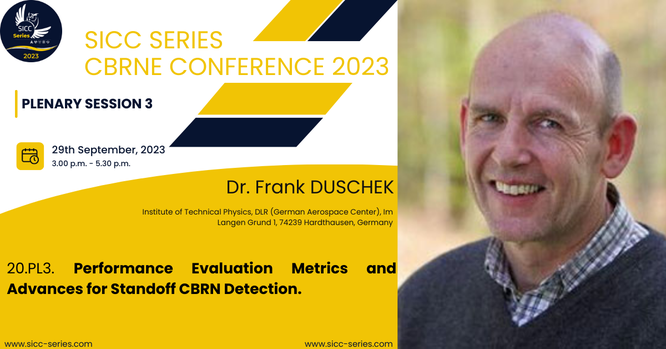 20.PL3. Performance Evaluation Metrics and Advances for Standoff CBRN Detection. 
Dr. Frank DUSCHEK
Institute of Technical Physics, DLR (German Aerospace Center), Hardthausen, Germany
The identification of CBRN (Chemical, Biological, Radiological, Nuclear) materials plays a pivotal role in assessing threats, ensuring protection in the aftermath of incidents, and aiding in forensics. Optimal selection of detection equipment is essential for effective performance. The Defense Advanced Research Projects Agency (DARPA) in the United States has defined key performance metrics for CB sensors. These metrics encompass sensitivity, probability of detection, false positive rate, response time, as well as other factors like unit cost, operational expenses, mean time between maintenance and failures, and SWAP considerations (size, weight, and power consumption).
Recent years have witnessed substantial advancements in capabilities related to detecting and identifying threat agents. Notably, CBRN point sensors have reached a level of maturity. Complementing conventional detection technologies, several standoff sensors have been either developed or are now available in the market. Within this presentation, we delve into representative examples of DLR systems designed for CBRN detection, evaluated against the aforementioned criteria. Furthermore, we provide an outlook on forthcoming developmental strides aimed at surmounting technological hurdles and enhancing the overall maturity of these systems.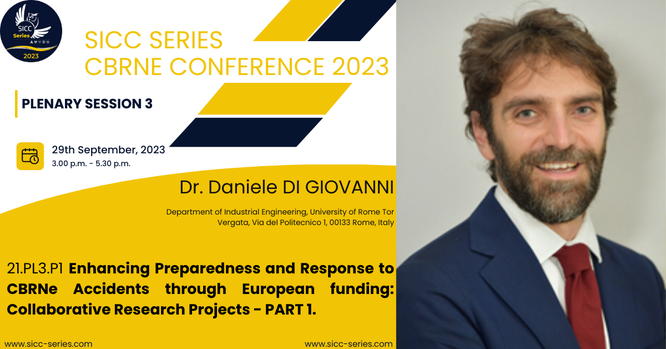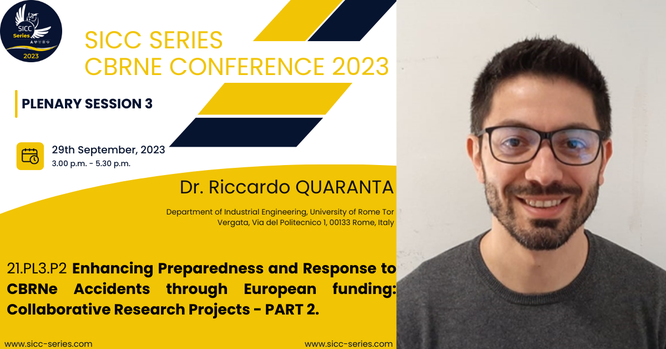 21.PL3. Enhancing Preparedness and Response to CBRNe Accidents through European funding: Collaborative Research Projects.
Dr. Daniele DI GIOVANNI(1,3), Dr. Riccardo QUARANTA(1,2)
1.  University of Rome Tor Vergata, Department of Industrial Engineering, Rome, Italy
2. The American University of Rome, Rome, Italy
3. Unicamillus-Saint Camillus International University of Health Sciences, Rome, Italy
In recent years, incidents involving Chemical, Biological, Radiological, Nuclear, and explosive (CBRNe) substances have witnessed a concerning escalation, underscoring the need for robust preparedness and efficient response strategies. This surge in CBRNe accidents necessitates innovative approaches to mitigate their potential catastrophic consequences, nevertheless strategic measures to enhance preparedness and response capabilities. One such approach involves employing European funding as a strategic tool to bolster preparedness and to make more effective response mechanisms. European funding holds a key position in promoting collaborative research initiatives with the goal of addressing CBRNe incidents. By uniting expertise and resources from across the continent, these projects collectively work towards enhancing emergency response capabilities, minimizing casualties, and curbing environmental damage. This presentation sheds light on the effectiveness of such collaborations by presenting some successful examples: eNOTICE, Melody, Vertigo and others.
---
Best Presentation Awards
1 Award for each Technical Session
CBRNe Master Courses - Diploma Ceremony
First and Second Level Master CBRNe 
---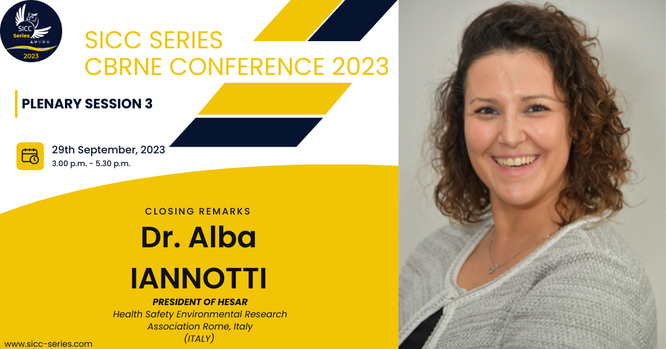 Dr. Alba IANNOTTI
PRESIDENT OF HESAR
Health Safety Environmental Research Association Rome, Italy
(ITALY) 
---
---
---
---